My Blog
Posts for tag: porcelain veneers
By Dr. J Douglas McDonald, DDS
May 18, 2019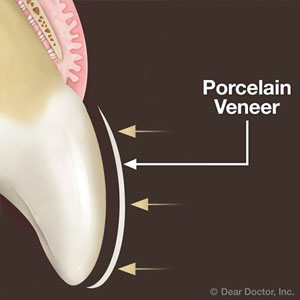 Your teeth are sound and healthy—but appearance-wise, they're nothing to write home about. It's nothing major: a chip, some heavy staining or perhaps a slight gap between the front teeth. But whatever the blemish, it bothers you every time you look in the mirror.
There's an affordable way to improve your smile without a lot of extensive treatment: porcelain veneers. These thin layers of dental porcelain are bonded to the teeth's exterior to mask the blemishes beneath. All you and others can see, though, are beautiful teeth blending seamlessly with the rest of your natural teeth.
Changing your smile with veneers begins with a consultation with your cosmetic dentist. During your visit you'll discuss what you would like to improve and how you would like your smile to appear afterward. It's helpful to take along magazine photos or other images of how you'd like your teeth to look.
After making impressions and getting other necessary measurements, your dentist may then be able to show you what your new veneers will look like. One way is through computer software that superimposes your proposed new look onto a photograph of your face. Your dentist may also be able to create test veneers with acrylic or other dental materials and apply them to your teeth. These aren't your permanent veneers, but they can still give you a realistic view of your future smile.
Once your measurements are on the way to the dental lab to custom create your veneers, your dentist must prepare your teeth for bonding. Although veneers are quite thin, they may still appear bulky when bonded to the teeth. To create a more natural look, you'll probably need some of the enamel layer of your teeth removed to accommodate the extra width. Even though this is a small amount, it will permanently alter your teeth and require some form of restoration from then on.
After your veneers arrive, the dentist will attach them with a translucent cement that will bond them seamlessly to the natural teeth. You and others won't be able to see where the veneer ends and the natural tooth begins. What you will see, though, is a new look for your teeth and a more attractive smile.
If you would like more information on porcelain veneers, please contact us or schedule an appointment for a consultation. You can also learn more about this topic by reading the Dear Doctor magazine article "Porcelain Veneers: Strength & Beauty as Never Before."
By Dr. J Douglas McDonald, DDS
August 21, 2018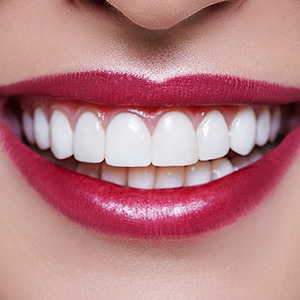 If your smile is, to put it mildly, "unattractive," you may think only extensive and expensive dental work can change it. But depending on your teeth's actual condition, you might be able to obtain a new smile with a less-invasive option: porcelain veneers.
As their name implies, veneers are thin layers of dental porcelain bonded to the front of teeth to cover imperfections. They're custom designed and manufactured by a dental technician to match the natural color, shape and size of the teeth they're covering and to blend with neighboring teeth.
Veneers are quite effective for heavily stained, chipped or moderately misaligned teeth that are otherwise healthy. They can even be used to address slight gaps between teeth and restore worn teeth to make them appear larger and more youthful.
Overall, they're less invasive than other dental restorations. That said, though, most veneers will still require some alteration of the affected teeth. This is because although quite thin they can still appear bulky after they're bonded to the teeth. We can minimize this by removing a small amount of a tooth's outer enamel. While this alteration is modest compared to other restorations, it's nonetheless permanent– your teeth will require some form of restoration from then on.
Veneers also require special consideration while biting. You'll need to exercise care and avoid biting hard items like candies (or using your teeth as tools) or the veneer could break. Similarly if you have a teeth grinding habit, you may want to consider having a custom guard created that you wear at night to prevent solid contact between your teeth. The excessive force generated while grinding or clenching teeth could also shatter veneers.
Veneers may not be the answer in all cosmetic dental situations, such as extensive disfigurements or bite problems. To know for sure if your particular dental condition could benefit, see your dentist for a complete dental examination and discuss whether obtaining veneers is a viable option for you. If so, you may be able to gain a much more attractive smile from this less invasive but no less effective option.
If you would like more information on porcelain veneers and other dental restorations, please contact us or schedule an appointment for a consultation. You can also learn more about this topic by reading the Dear Doctor magazine article "Porcelain Veneers: Strength & Beauty as Never Before."